The Spanish mission-style buildings with ivory walls and bronze tile roofs stand in beautiful harmony with the green leaves of Okadayama.
In September 2014, the campus architecture designed by W.M. Vories was designated "National Important Cultural Property" by the Japanese government.

: Architectsure of Dr. Vories
Main Gate
Manyo-ike Pond
Music Building I
Music Building II
George Allchin Memorial Hall
Emily Brown Memorial Hall
Literature Building Annex I
Literature Building Annex II
DeForest Memorial Hall
West Gate
Main Library
The English Zone
Literature Building
Fountain pond
Science Building
Science Building Annex and Counseling Room
Social Center
New Social Center
Administration Building
(incl. Auditorium, Searle Chapel)
Mary Anna Holbrook Memorial Hall
School Store
Gymnasium I
Gymnasium II
Gymnasium III
Tennis Court
North Gate
New Library
Julia Dudley Memorial Hall
Shakespeare Garden
Okadayama Lodge
Mary and Grace Stowe Memorial Dormitories
Miriam Hall
Communication Center
Shofuan (Tea-Ceremony House)
Kenwood House
Edgewood House
Angie Crew Memorial Hall
Communication Center
High School Building I
Virginia Clarkson Memorial Hall
Talcott Memorial Hall
Alumnae Hall (Megumi-Kaikan)
Valley Gate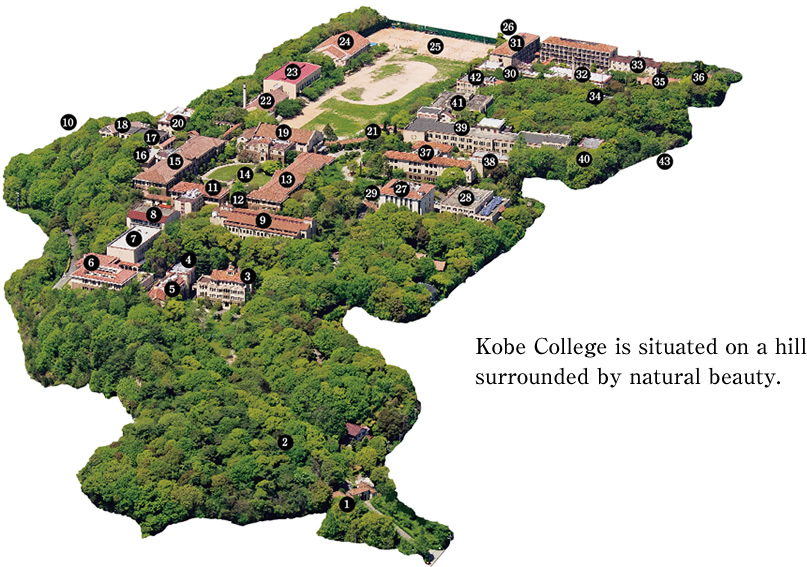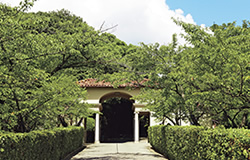 Main Gate

Like a prologue to the lush campus which is hidden until the gate is passed and one begins to walk the path through the arched gate and up the hillside leading to the magnificent Vories buildings.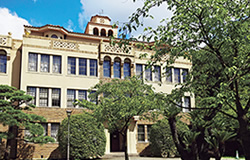 Music Building I

Situated only a few minutes away from the main gate, it is a building from which one can often hear the sound of music. The beautifully designed roof features a "Fifer" weathervane.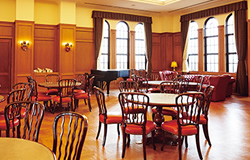 Meji Lounge
The Meji lounge, a multi-purpose space, is utilized for events such as Christmas parties. Students enjoy the calm elegant room for studying or reading during break time.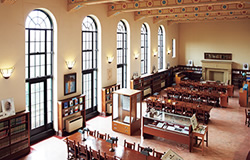 Main Library

The high ceiling delicately painted with unique patterns is lit by natural sun-light brought in through the large arched windows facing north. There are 20 iPads available here for student-use.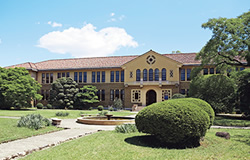 Literature Building

The literature building, with its impressive arched entrance, is a grand representation of Vories' architecture. It is primarily used by the School of Letters.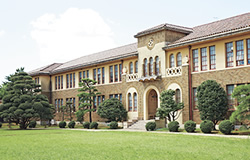 Science Building

A historic structure on the west side of the courtyard, the science building features lecture rooms, research rooms and laboratories for the department of human sciences.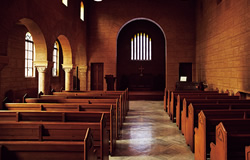 Searle Chapel

The daily "chapel hour" is a time for faculty, staff, and students to reflect upon the spirit of Christianity. On weekends, the chapel is often used as a venue for wedding ceremonies of Kobe College graduates.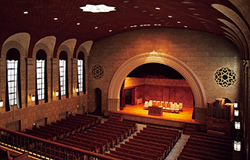 Auditorium

The auditorium, with its handsome arched ceiling, seats over 800 people. Chapel services, entrance and graduation ceremonies, and other large events are held in this auditorium.