College Program
The undergraduate program at Kobe College is comprised of three academic schools and five departments. The post-graduate program offers education in three disciplines. As an institution that emphasizes small-class learning, the low student-to-teacher ratio provides students with personalized attention and quality support to help each one realize her potential.
Common Subjects
Seeking to provide a well-rounded education to cultivate individuals with a broad perspective, Kobe College offers a variety of cross-disciplinary studies. Courses include: women's studies, psychology, education, philosophy, history, culture, art, natural science, information science, foreign languages, physical education and Christianity. Selecting subjects from areas of particular interest gives students a chance to build their foundation for future research.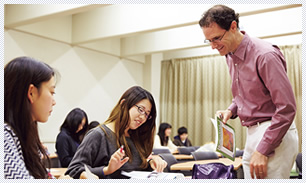 Cross-Disciplinary English Education
This is a required English program for all Japanese students at Kobe College to help them gain a good command of English. Original texts and smartphone applications are utilized for studying grammar and vocabulary. The program is linked with students' major courses, allowing them to learn English terminology needed in their field of study.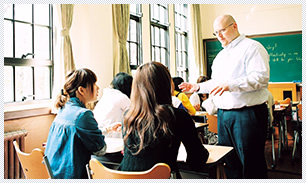 College-wide Minor Programs
Minor Program A
Liberal Arts and Sciences Program
This minor program allows students to acquire knowledge and skills in subject areas that are not directly related to their majors. Minor options are listed below:
・English and American Literature and Culture
・Linguistic Communication
・Global Studies
・Religious Studies
・Culture and History of Europe and America
・Philosophy, Ethics and Aesthetics
・Social Welfare, Children and Education
・Sociology and Media Studies
・Japanese Language and Literature
・History and Culture of Japan and Asia
・Economics, Law, and International Relations
・Piano
・Vocal Arts
・Instrumental Arts
・Music Composition
・Psychological and Behavioral Sciences
・Bioscience
・Environmental and Ecological Sciences
・Women's Studies
Minor Program B
Career Design Program
Media Communications Course
A course which aims to enhance the students' understanding of the role of media and improve their writing, presenting, and communication skills.
Art Management Course
A course where students develop an appreciation of art and skills needed for art production and management, through gaining specific knowledge of the arts and learning organizational management.
Hospitality Management Course
A course designed to cultivate the ability to communicate effectively and with compassion, transcending differences in physical ability, gender, culture, and nationality, through training in manners and emergency care.
Interpreting and Translation Program
This program employs unique techniques used for training professional interpreters and aims to raise students who excel in English. Classes are taught by experienced interpreters and translators, using technological equipment equivalent to those used in international conference halls.
Regional Development Leadership Program
Seeking to develop leaders in society, this program requires students to plan and organize regional events to foster development and tackle regional problems under the mentorship of experts in the business world, public administration, and NPOs.
Courses for International Students
Special courses in Japanese culture and language are available for international students. Students may also select their courses from a wide range of other disciplines according to their interests.
Introduction to Japanese Culture
Composed of a mixture of lectures and activities, the course provides students with an opportunity to acquire knowledge and experience Japanese culture and traditions first-hand. Cultural activities include: tea ceremony (the Way of Tea), Kado flower arrangement, Noh theater, origami (paper folding art), and Aikido (martial arts).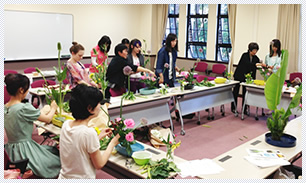 Class Schedule (Reference)
| | |
| --- | --- |
| WK1 | Japanese Tea Ceremony① |
| 2 | English Rakugo |
| 3 | Japanese Tea Ceremony② |
| 4 | Introduction to Modern Japanese Literature |
| 5 | Japanese Flower Arrangement① |
| 6 | Japanese Flower Arrangement② |
| 7 | Origami(paper-folding art)① |
| 8 | Origami(paper-folding art)② |
| 9 | Japanese Koto Ensemble |
| 10 | Aikido, a Japanese Martial Art |
| 11 | Japanese Culture Studies: Q&A |
| 12 | A Type of Japanese Song, Enka |
| 13 | Noh-play |
| 14 | Japanese Dishes |
| 15 | A Japanese Art,Animation |
Current Issues in Japan
This course is designed to help international students understand and consider current issues in Japan. Taught by several instructors who are experts in their fields, each class deals with a variety of issues including Japanese politics, international relations, law, religion, and business.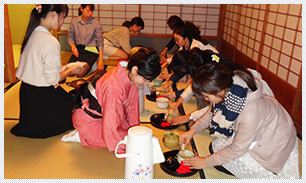 Class Schedule (Reference)
| | |
| --- | --- |
| WK1 | Molecular Food Functionality |
| 2 | Interpretation in Japan |
| 3 | Politics in Japan |
| 4 | International Management① |
| 5 | International Management② |
| 6 | International Politics① |
| 7 | International Politics② |
| 8 | Greeting Expressions in Japanese |
| 9 | Law and Legal Issues |
| 10 | Issue-development Country Japan "How was poverty created?" |
| 11 | International Relations: Japan and China① |
| 12 | International Relations: Japan and China② |
| 13 | Christianity and Religious Issues |
| 14 | Japan's Aging Population |
| 15 | Fukushima Nuclear Crisis |
Tutorial for Exchange Students
The tutorial system allows exchange students to pursue advanced learning on a one-on-one basis with an academic advisor. The student may choose an advisor from the faculty members at Kobe College according to her field of interest, and design the content of the course together.
Subject List for Tutorials
●
Department of English
English
English Education
English Literature
English and American Literature
Global Studies
International Business
International Relations
Interpretation
Linguistics
Study of English Language
Translation
●
Department of Intercultural Studies
American Literature and Culture
Christianity
Cultural Studies, Japanese Literature, Critical Theories
European History
Greek Philosophy
Japanese Pop Music
Medical Sociology
Pedagogy
Politics and Economy in India
Psychiatric Social Work
Religious Studies, Old Testament Studies
Social Media
Social Welfare
Sociology
Visual Culture, French Literature
●
Department of Music
Contemporary Dance
Musicology
Vocal
●
Department of Psychological and Behavioral Sciences
Clinical Psychology
Psychiatry and Psychoanalysis
●
Department of Biosphere Sciences
Environmental Sociology
Hydrosphere Environmental Science
Molecular Food Functionality
Science Education
Japanese (I) Reading
This course aims to help students acquire basic skills in Japanese grammar and vocabulary, and develop the ability to read simple sentences about everyday topics.
Japanese (II) Reading
This course is designed for advanced-level speakers of Japanese. Students will read passages from novels, newspaper columns, essays, etc. and make presentations in class.
Japanese (III) Grammar and Composition
This is a high-level Japanese course that enables students to develop advanced-level grammar and vocabulary skills through intensive training in reading research materials and writing papers.
Japanese (I) Grammar and Composition
In addition to hiragana and katakana writing practice, students will learn vocabulary and basic Japanese sentence structures.
Japanese (II) Grammar and Composition
This course aims to train students not only to master primary level grammar, but to use the grammar skills such as transitive / intransitive verbs, causative and passive expressions, in writing.