Home
> Partnership Network
Kobe College is affiliated with over 100 universities and colleges around the world. Kobe College actively accepts international students and is committed to expanding the partnership network with other institutions.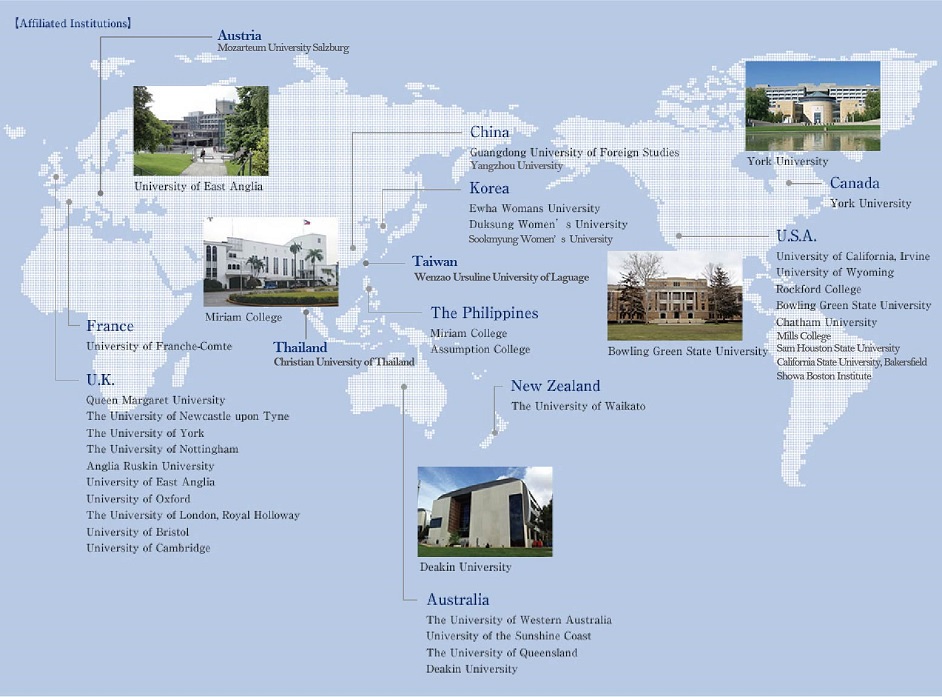 Below is a partial list of the universities with which Kobe College is
affiliated through the Japan Study Abroad Foundation (JSAF).
<USA> Appalachian State University/American University/
The University of Arizona/Indiana State University/The University of Oregon/
California State University, Northridge/Colorado State University/
Cornell University/Johns Hopkins University/Saint Michael's College/
Duke University/Harvard University/University of Vermont/
University of Pennsylvania/Miami University Ohio/University of Minnesota Twin cities/
University of Montana/University of Richmond/Washington State University
<Canada>University of British Columbia/Memorial University
<U.K> Glasgow Caledonian University/King's College London University of London/
Queen Mary University of London/Queen's University Belfast/University of East Anglia/
University of Exeter
<Ireland> Dublin City University/Trinity College Dublin
<Australia> Flinders University
<New Zealand> University of Auckland
<Spain> University of Salamanca
<Italy> Catholic University of the Sacred Heart